How To Give A Lasting Gift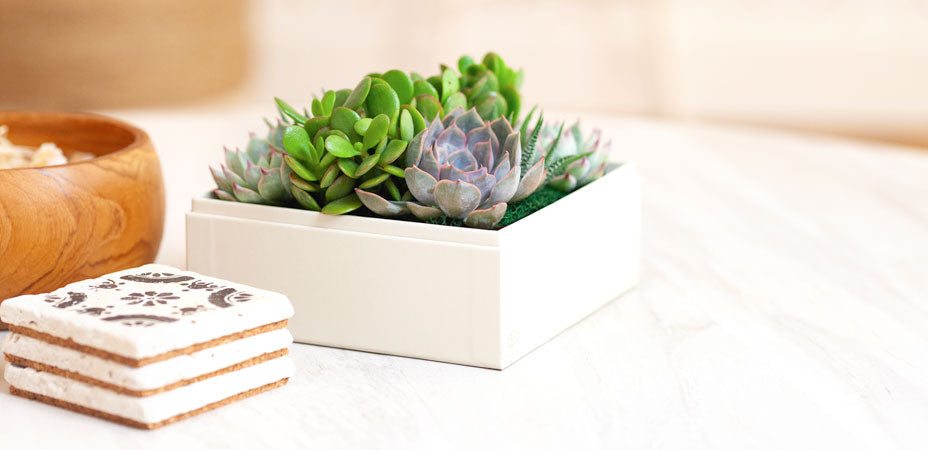 When it comes to gift-giving, you don't just want to give a gift someone won't remember. You also don't want to give a gift that has no meaning or significant purpose. One of the easiest ways to make an impression with gift-giving is by giving gifts that give back. 
A great way to do that is by giving gifts that support a cause. A gift should never be done without thought. If you want to make a lasting impression with a gift, give a gift that serves a higher purpose than the moment itself, like with succulents from Lula's Garden!
 Give Gifts That Support a Cause 
Thoughtful gift-giving goes beyond what the gift is. If a gift can give back to a community, person, or population, then its effects go above and beyond the simple smile a gift can bring. When you receive a gift that does far more than serve you, you feel as though you are accomplishing something. You feel like you are contributing to a cause that is greater than yourself. 
When you are the person giving the gift, you can also know that you are the reason change is made. If you can put your money toward making someone happy while also positively benefitting a cause, you can be just one part of the story that creates change in the world.
 Give More To Change the World 
Giving a gift that gives back is not about the gift-giver. When you think through the lens of giving back, you remove yourself from the equation. If a gift is meant to make a difference, you should always think about the person receiving the gift.
A gift that leaves a lasting impression is a gift that keeps on giving. Look for gifts that donate to a cause, use a portion of the company profits to help impoverished countries or struggling communities, and every individual purchase gives back in some way.  
Be the kind of gift-giver that wants to make a difference. Giving a gift should not be complicated, nor should it be stressful. Navigating how to give a lasting gift can be simple. Start by giving gifts that give back. Don't just give a gift to get it over with! 
 Thoughtful Gifts Leave a Mark 
Gift-giving tends to be one of the more stressful components of celebrating a loved one's birthday or any holiday, or sending a professional gift for your clients or employees. You tend to focus so much on what something costs, that you forget it is about way more than that. 
A gift should make an impact on the person receiving the gift. A give that gives back does even more. 
Thoughtfulness in gift-giving shows the person receiving how much you care. You should always think about the other person before yourself when you are giving a gift. It is not about what you want or need; gift-giving is meant to be selfless. 
Some traits of thoughtful gifts:
Personalize

the gift to make it unique

If you are celebrating a birthday, holiday,

baby shower

, or anniversary, make the gift specific to what you are celebrating

Unexpected gifts

Spend more on another person more than you would on yourself

Make it memorable
The most important component of thoughtful gift-giving is putting someone else's needs before your own. If you can give a gift that puts the recipient before yourself, but also serves a cause, that is the epitome of selflessness. 
When it comes to thoughtful gift-giving, you want to put yourself in the shoes of the other person. 
Putting yourself in their shoes allows you to think more like them. This removes yourself and helps you to give a gift that is all about giving back. A gift is not meant to be about the giver. A gift is about who it's for and who it serves. 
 Good Gifts Affect Your Relationships 
Good gift giving positively impacts your relationships. Studies have shown that thoughtless gift-giving can negatively harm your relationships.
Each year, a significant amount of money is spent on giving gifts. However, just because a gift is expensive does not mean it was purchased with thought. A bad gift is known to leave the recipient feeling misunderstood and undervalued. 
A gift goes far beyond the cost. Gift-giving is about expressing how well you know the person, what they would enjoy, and how they feel loved. 
One of the qualities you should look for when looking for the perfect gift is how long the gift will last. This can mean durability, but it can also mean how long the effects of a gift last. 
When you give a gift that gives back, the impact of that gift can last a lifetime. If the recipient knows the impact of a gift, they feel as though they are one component to making a difference in the world. 
Giving gifts that give back creates a bond between the giver and receiver, creates a long-lasting impact, goes beyond the gift itself, and creates feelings of purpose due to contributing to a cause bigger than yourself. 
Another way you can become a gift-giver that leaves a lasting impact is by knowing the recipient well. You can take the time to learn what they are interested in and pick out gifts that meet those interests. This will leave the recipient feeling understood and loved.
You can also simply ask! Do not be scared to ask the person what they want. This is how you know you will get them something they really want. 
After asking the person what they want, be sure to follow through. Showing someone you have been listening shows them you care. Once you do that, give them a gift that keeps on giving. In that gesture, so many people benefit. 
You personally benefit because of the satisfaction of caring about someone other than yourself. Additionally, the recipient benefits because they receive an incredibly thoughtful gift that gives back to a worthy cause. 
Don't overthink thoughtfulness. Take the time to know the recipient and take the time to discover gifts that serve a greater purpose. Your relationships and the world will positively benefit from these acts of selflessness.
 A Gift That Leaves a Lasting Impression 
A gift should be far more than giving a loved one something entirely random. There should be heart, thought, and intentionality behind the gesture. That's where Lula's Garden comes in. We create beautiful succulent gardens that are perfect for any occasion. 
When you give a gift, ask yourself why you are giving it to begin with. Ask yourself if the gift matters. If the gift is going to leave a lasting impression, it has to be a gift of value. 
A gift should come with the message behind the gift that signifies what the person means to you. The gift given does not have to just demonstrate the person's importance. It can also make a difference in the world. Give a gift that keeps on giving. 
Sources:
The Art of Thoughtful Gift-Giving | The Cut
The 5 rules of gift-giving | CNN